Technology at Pathways Learning Academy
Inspiration Through Connectivity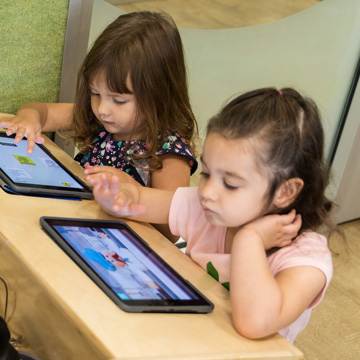 We keep pace with technological advancements because that's what's best for your child's education and safety!
Mobile App: Stay Connected for Every Precious Moment
We understand that parents want to be with their children all the time. That's why we're working to ensure you won't miss a single precious moment. Our mobile app for parents gives you access to real-time photos and updates about your child's day.
Receive videos and photos
Kudos: Teachers can quickly share out "wow" moments
Milestone and learning updates from your child's teacher
Here are a few more mobile app highlights:
Parents can share access with others, such as grandparents.
Easily share photos via texts and emails.
Previous updates don't expire; you can always scroll down to relive favorite memories.
We prioritize security, so you can rest assured your updates are private, visible only to you and whomever you choose to receive them.
Technology in Classrooms
Preschool and Pre-K
Interactive table for cooperative, social digital education experiences
Tablets with age-appropriate educational apps and games
Basic coding lessons, as well as robotics toys
Before- and after-school clubhouse for school-age students
Students can learn programming and coding
Engineering and robotics skills developed
Family Link: Making Your Life Simpler
Family Link is our proprietary, easy-to-use online resource for managing personal info and financial commitments. With Family Link, you can quickly and easily:
Make online payments.
Set up automatic payments.
Update or verify family information.
Update financial information.
Read news and announcements.