Early Preschool Program
Preschool Prep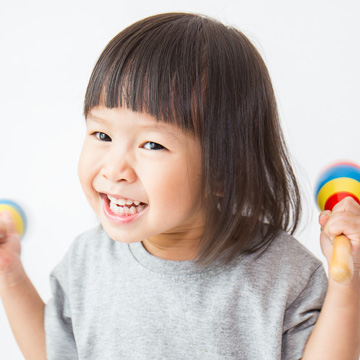 For 30- to 42-month-old children, we've created an exclusive curriculum based on developmental indicators, Learn as We Grow™. To prepare for Preschool, children have the opportunity to build skills in 10 important developmental areas:
Physical Development and Health: Following directions, completing tasks with little supervision, and participating actively in group games are some of the skills developed.
Language: Responding appropriately to questions about books, and repeating different words/sentences to get another person to respond are explored.
Approaches to Learning: Finding solutions to simple problems is the focus of this area.
Social-Emotional Development: Children work on using emotional words (such as "I'm mad") to have their needs met, while following established rules and routines in the classroom, and playing well with others.
Creative Arts: Children's ability to use various materials—pencils, paints, play dough, musical instruments, and more—in different, varied ways.
Literacy: Children learn about asking adults to read printed information, drawing figures and shapes to convey meaning, and using picture and verbal cues.
Logic and Reasoning: Children work on sorting and solving simple puzzles.
Math: Children learn about identifying numerals and alternating patterns.
Nature and Science: Children develop analytical skills such as classifying objects into living and non-living categories, providing explanations for why an event/outcome occurred, and demonstrating persistence and creativity in problem-solving.
Social Studies: Children learn to use terms related to location, direction, and distance, as well as terms related to time (day, night, yesterday, today, tomorrow).
Around this classroom, children will find STEAM-focused experiences that include:
Engineering station featuring blocks, gears, puzzles, and magnetic connectors
The integration of art materials across the room, supporting 21st century learning skills
Hands-on science activities: sensory tubes, light table, color mixing lenses, water works
We also help children to work with classmates, develop their self-help skills, and follow routines and directions. We provide visual tools to guide them toward independence and confidence, empowering them to take charge of their actions and behaviors, and to be successful, including:
Picture Schedule: We illustrate different parts of the day to help children understand time, schedules, and routines.
"I Can" Posters: Children gain independence and confidence by following clear, step-by-step picture instructions for hand washing, using the bathroom, and more.
Class Expectations Signs: Safety, kindness, and responsibility are highlighted, setting expectations for respectful classroom behaviors, while also having fun.
We designed this program to be a supportive bridge on the path to Preschool, so children can grow accustomed to more consistent routines and structure.